5 Ways to Rock the Holiday Sale Season (and Make More Money!)
The holidays aren't just about selling on Black Friday. Sure, it makes the most money, but we bet you didn't know that the entire holiday season racked up $211 billion in sales last year (and that's just online).
This is a great opportunity to show off your brand, increase revenue, and bring new friends into the fold while you're at it!
If you want to rock this year's biggest sale season, read on because we have a few different ways to help you make that happen, love.
Run a sale, of course!
Nothing says the holiday season quite like a sale or promo! They're a great way to boost your sales and help you stand out online. Because here's the thing — so many other businesses will be doing them.
We don't want you to have to feel like everything is a competition (there's room for all of our brilliant ideas, after all!) BUT your audience will be looking to score the best deal during the holidays because of all these promos. And more often than not, they will go with the best deal.
That doesn't mean you have to have the lowest price on the market, but if a shopper sees a brand they LOVE with a sale that's hard to beat, then the odds are more than likely in your favor!
BOGO sales
Buy-one-get-one sales — usually with the second item being free or at a discounted rate — are a great way to drive traffic during the holiday sale season. People will be looking not only to purchase things for themselves, but also for their friends, family, and biz besties!
So, if you have anything that you wouldn't mind giving away for free or for a discount, consider adding that to your holiday sale season lineup (we recommend staying away from the high-ticket offers on this one though).
Start an affiliate program
Affiliates are lovely people (or brands) who share your products with their audience. This happens either through a promo or discount code. If someone purchased your product through your affiliate, a percentage of the sale goes back to them. They're a wonderful way to reach new friends that you otherwise may not have reached on your own!
You can offer affiliate links on a select few items or services, or your entire repertoire if you want. It's up to you, just make sure you find people with similar enough audiences for your offers to be relevant.
They can also help you increase your brand awareness and conversion rates because the more social proof, the better! Your target audience is using Instagram and other social platforms to influence their shopping decisions, especially during the holidays. And affiliates can help you direct their attention to you. People are more inclined to buy when the recommendation comes from someone they know or trust.
Use testimonials
If you're looking for a way to stand out among all the chatter of the holiday sale season, use your testimonials!
Social proof shows your audience that what you offer works and is worth the investment. Sort through product reviews and use raving reviews in your blogs, emails, pins, and on any other social media platform.
And if you don't have any — it doesn't hurt to ask! Offer past clients or customers an incentive for their time, (such as "get 10% off in my shop when you submit a review!"). We suggest reaching out over email to do this. It's the best way to get the most authentic review! You can ask them to review directly on your shop page, respond on a Google form, or reply directly to the email.
Use Canva templates to stop the scroll
Of course, we couldn't talk about running a successful holiday season without talking about creating visuals to match!
Again, there will be a lot of chatter online, and lots of graphics and videos to look at too. If you want your brilliant ideas to stand out, to stop the scroll, and get your dream clients' attention, then you need professional, beautifully-designed graphics to do it.
But we know that doing it all yourself is a total time suck (something you have even less of during the holidays) and hiring a designer on this short notice will be no easy task.
That's why we want to remind you about The Sale Promo Canva Template Pack!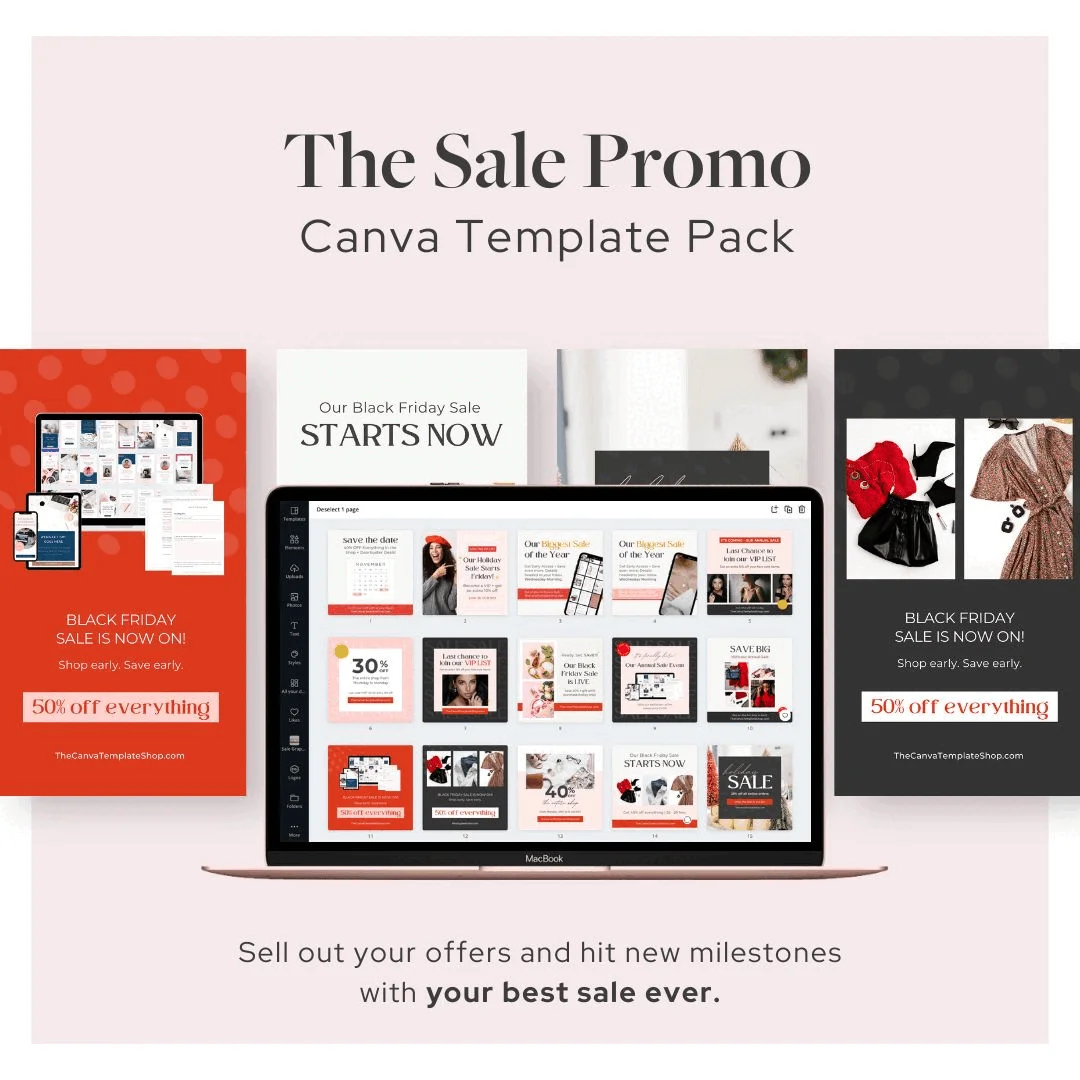 There are a lot of sales and a lot of graphics to create between all the holiday sales. If you need to create gorgeous, on-brand graphics in a pinch (that will also stand out from the sea of other promo material online), then this is for you!
Inside, you'll find:
20 Instagram Square variations

, including pre-sale, sale, and last call options

20 Instagram Stories variations

so you can get more eyes (and excitement) on your offer

5 Facebook banner variations

to help you grab the attention of potential new customers as soon as they land on your page. (These banners can be easily resized for other marketing purposes.)
PLUS you get:
Immediate download

so you can start designing those graphics ASAP

An editable + brandable Mood Board Template

so you can perfectly plan out the look and feel of your content
SHOP THE SALE PROMO CANVA TEMPLATE PACK HERE
*pssst….Get these templates for $49 $36.75 with code SALESEASON*
And if you want access to all our templates, snag the All-Access pass for just $597 — and keep getting access to all the templates we drop after that at no extra charge! Grab yours here!